15 Views
November 16, 2017
Gold Prices in Holding Pattern Ahead of House Vote on GOP Tax Reform Bill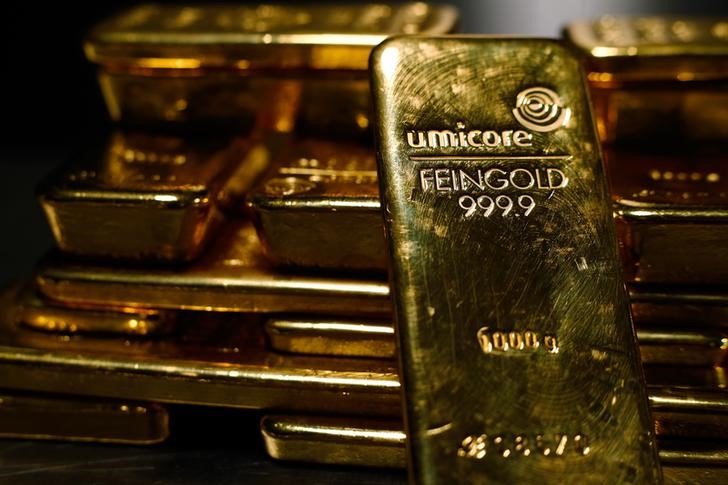 © Reuters.
Investing.com – Gold prices were roughly unchanged on Thursday as the recent trend of flattening yields faded but downside momentum was capped by dollar weakness on the back of soft economic data.
Gold futures for December delivery on the Comex division of the New York Mercantile Exchange rose by $3.11, or 0.35%, to $1280.77 a troy ounce.
Ahead of the GOP House vote on tax reform, gold prices traded in a narrow range on Thursday as gains on the back falling dollar were capped by rise in treasury yields.
The U.S. Department of Labor reported Thursday that initial jobless claims increased 10,000 a seasonally adjusted 249,000 for the week ended Nov. 11, missing forecasts of a 4,000 decrease.
Philly Fed manufacturing index for November fell to 22.7 in November from 27.9 in October, undershooting economists' forecasts for a reading of 25.
Gold is sensitive to moves higher in both bond yields and the U.S. dollar – A stronger dollar makes gold more expensive for holders of foreign currency while a rise in U.S. rates, lift the opportunity cost of holding non-yielding assets such as bullion.
Traders, however, shifted attention to tax reform as the House is poised to pass to pass a massive overhaul of the U.S. tax code on Thursday as Republicans attempt to push through tax reform before year-end.
Uncertainty over the outcome of tax reform has renewed investor appetite for safe-haven gold, as data showed traders increase their bets on the precious metal last week.
Net bullish bets on gold rose to 195,800, from 193,100 the previous week according to a report from the Commodity Futures Trading Commission (CFTC) on Monday.
In other precious metal trade, silver futures rose 0.57% to $17.08 a troy ounce, while platinum futures gained 0.26% to $935.50.
Copper traded at $3.05, down 0.15% while natural gas fell by 68% to $3.06. The downturn in natural gas future comes against data showing domestic supplies in storage fell for the first time this season.
sponsoredArticle = 'div-gpt-ad-1466339494851-0';