51 Views
October 21, 2017
Fed officials take aim at tax cuts as Trump mulls new central bank chair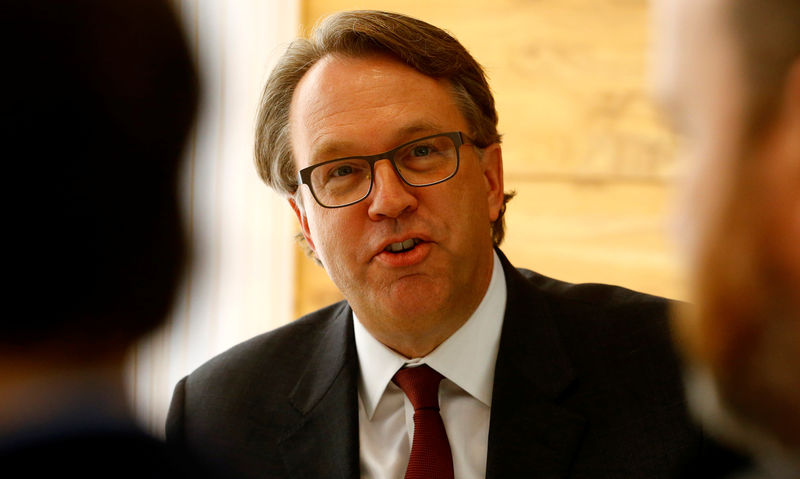 © Reuters. U.S. central banker Williams addresses news conference in Zurich
By Howard Schneider and Ann Saphir
ST. LOUIS (Reuters) – Federal Reserve officials have started to push back on the idea that the Trump administration's tax cut plan would boost the economy, cautioning it could instead trigger high inflation, unsustainable debt and an eventual return to sub-par growth.
Slashing personal or corporate tax rates could boost short-term growth as households and businesses spend more, Fed policymakers acknowledged, but those benefits could prove short lived due to broad trends like population aging and rising indebtedness.
The remarks about U.S. President Donald Trump's proposed tax overhaul come as he is ramping up a search for a new Fed chair, promising a decision this month.
Unless targeted to raise productivity and underlying potential, a tax cut could feed "unsustainable" growth that could ultimately be undone by asset price bubbles, inflation and possible recession, San Francisco Fed President John Williams told reporters on the sidelines of a community banking conference here on Thursday.
"Having policies that don't kind of maintain this sustainable path, stable inflation, will just end up, we know from history, creating potential recessions or high inflation or other problems and that doesn't benefit anybody," he said.
White House pressure on the Fed to keep interest rates low in the 1960s in order to boost growth contributed to a subsequent period of so-called stagflation, or low growth and high inflation, in the 1970s, Williams noted.
Williams said he feels the economy as it stands now can on average grow 1.5 percent annually, half the 3 percent growth that Trump has promised, without those sorts of problems.
While tax code changes and other reforms could raise potential, Williams said early analysis of such proposals show they "mostly boost demand and tend to have relatively small" impacts on things like labor supply and productivity growth.
FED INDEPENDENCE CUTS BOTH WAYS
Fed officials have traditionally hesitated to speak directly about fiscal issues, leaving tax and spending matters to elected officials. Government officials similarly refrain from commenting on or trying to influence Fed policy.
But the fate of the administration's tax proposal, its effect on the economy and the Fed's possible reaction to it are major unknowns for an economy that is doing well in many respects, with low unemployment and sustained growth since the 2007-2009 financial crisis.
The Trump administration has proposed $6 trillion in personal and corporate tax cuts at a time when many economists feel the country is not in need of massive stimulus.
Many of the tax plan details need to be worked out on Capitol Hill, but the broad idea is to offset most of the government revenue lost through lower tax rates by eliminating some tax deductions and loopholes, relying on faster economic growth to take care of the rest.
FED LEADERSHIP UNDER CONSIDERATION
Some of the deductions are already in trouble in Congress, while the effect that tax cuts will have on growth is a matter of controversy even among economists reportedly under consideration by Trump for Fed chair.
Stanford visiting fellow and former Fed Governor Kevin Warsh, Columbia University business school dean Glenn Hubbard and Stanford University professor John Taylor, in a general endorsement of the thrust of Trump's plans, argued in a mid-July report that tax cuts could raise productivity and bring enough people back into the workforce to boost economic growth to 3 percent.
But they said that would only happen if the tax cuts were paired with restrictions on entitlement spending, an idea Trump opposed as a candidate when he promised to protect Social Security and Medicare.
"Tax reform and spending reductions go hand-in-hand," wrote the group. Warsh in particular is considered a possible contender to replace Fed chair Janet Yellen.
"Without significant spending restraint, even with positive effects on economic growth, the tax rate reductions would likely be limited and temporary, limiting their economic benefits."
Dallas Federal Reserve bank president Robert Kaplan earlier this week warned that tax cuts on their own may trade short-term growth for long-term damage.
"My concern is you would create a bump in (gross domestic product) that would be short term, you would then decline back down to trend growth except when you declined back down you would be more leveraged than when you started," he said.
sponsoredArticle = 'div-gpt-ad-1466339494851-0';