Britain hopeful of 'good news' on Northern Ireland crisis: minister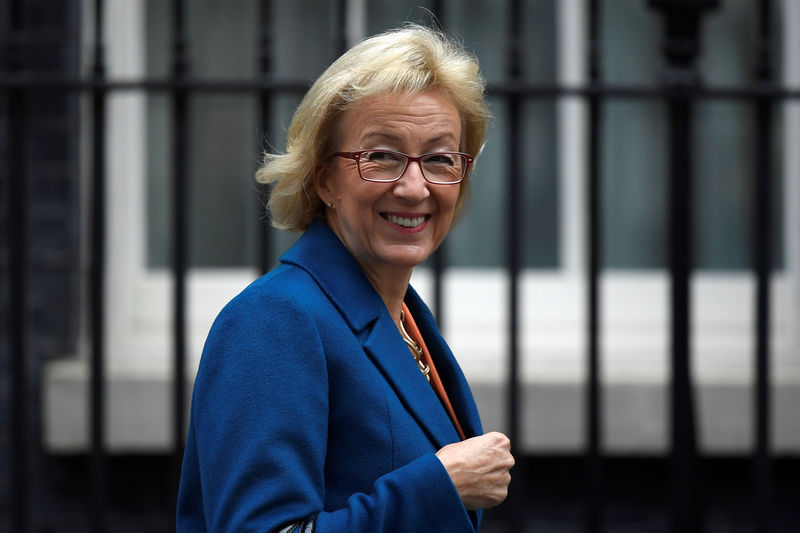 © Reuters. The Leader of the House of Commons, Andrea Leadsom, arrives in Downing Street in central London
LONDON/BELFAST (Reuters) – Britain is hopeful of some "good news" from Northern Ireland that may allow it to introduce legislation that would restore the region's power-sharing government, the leader of Britain's lower house of parliament said on Thursday.
Northern Ireland has been without a devolved administration since its collapse in January, raising the prospect of direct rule being reimposed from London, potentially destabilizing a delicate political balance in the British province.
Irish Foreign Minister Simon Coveney, who has been facilitating the talks with his counterpart in London, raised the possibility on Wednesday that a successful outcome could be reached by the end of the week.
"We are hopeful for some good news from Northern Ireland that may allow for legislation to recreate the Northern Ireland Executive," Andrea Leadsom added when setting out the upcoming parliamentary business for next week.
Although there was no formal reference to legislation on Northern Ireland in the published list of business, her comments suggest the government would be able to find time for it in the parliamentary schedule.
Britain's Northern Ireland minister has warned that he will have to impose a budget for the province from London if an agreement is not reached by the end of the month, saying on Thursday that clear differences remained between the parties.
The main impediment in the talks between Irish nationalists Sinn Fein and the pro-British Democratic Unionist Party (DUP) is disagreement over the rights of Irish language speakers.
Sinn Fein's leader in Northern Ireland, Michelle O'Neill, said in a statement there were still very real challenges to be addressed in the talks.
sponsoredArticle = 'div-gpt-ad-1466339494851-0';