18 Views
October 23, 2017
Asian Shares Mostly Higher, But Nikkei 225 Eases Ahead Of Polls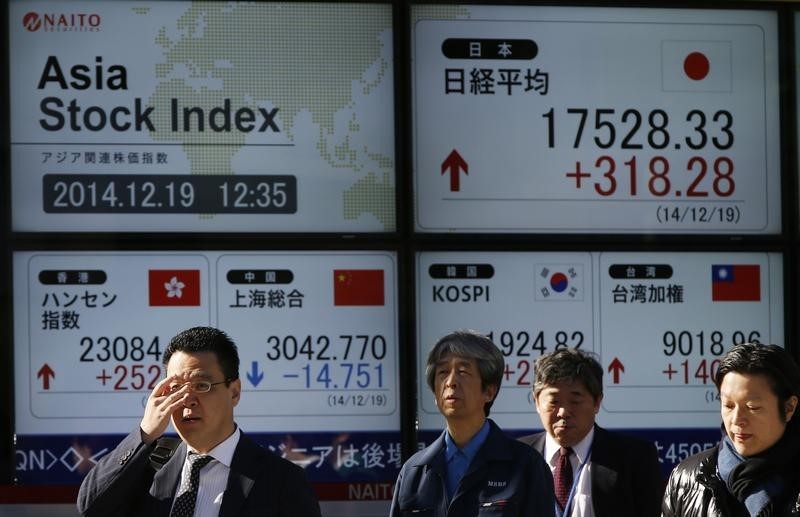 © Reuters. Asian shares mostly higher
Investing.com – Asian shares mostly gained on Friday in Asia though Tokyo dipped ahead of national polls at the weekend.
Japan's Nikkei 225 inched won 0.01%, possible ending 13 straight days of gains ahead of the Oct. 22 election. Japan's Prime Minister Shinzo Abe is expected to sweep back into power in the Sunday polls, though the country's proportional voting system has scope to throw up a surprise.
In Greater China, the Shanghai Composite rose 0.05%, while the Hang Seng index gained 0.98%. Markets recovered after People's Bank of China Governor Zhou Xiaochuan had warned Thursday that too much optimism in markets could lead to a collapse of asset prices.
Overnight, Wall Street closed higher on Thursday as ongoing investor optimism on corporate earnings inspired U.S. stocks to recover from session lows.
The Dow Jones Industrial Average closed higher at 22,163.04. The S&P 500 closed 0.03% higher while the Nasdaq Composite closed at 6605.07, down 0.29%.
US stocks started the session on the back foot after shares of Apple Inc (NASDAQ:NASDAQ:AAPL) suffered its worst session since August, falling more than 2% amid speculation of timid demand for its iPhone 8.
The slump in shares of Apple, however, was offset by strong gains in Travelers which followed an earnings report that topped Wall Street estimates on both the top and bottom line.
On the economic front, investors cheered data showing strength in the manufacturing sector and jobs.
The Philadelphia Fed said Thursday its manufacturing index rose to a reading of 27.9, from 23.8 in September, beating economists forecast of a reading of 22.
The U.S. Department of Labor reported Thursday that initial jobless claims decreased 22,000 to a seasonally adjusted 222,000 for the week ended Oct. 13, beating forecasts of a 4,000 decrease.
Investor expectations of a strong quarter of corporate earnings continues to offset potential risk events that could threaten the recent rally in U.S. stocks.
Spanish Prime Minister Mariano Rajoy said the central government would push ahead with plans to take control of Catalonia after Catalan Leader Carles Puidgemont failed to renounced the region's push for independence.
On the corporate earnings front, investors awaited an earnings report from Paypal after U.S. markets close on Thursday.
sponsoredArticle = 'div-gpt-ad-1466339494851-0';